Enjoy dozens of winter entertainments at VDNKh throughout the winter season, 22 November to 1 March.
Skate on the biggest Russian skating rink, make a New Year gift and watch an interactive show. Not all of entertainments are available for visitors so far, as many of them depend on the weather. However, even now citizens can skate on the artificial ice rinks and enjoy tubing slides. As soon as there is enough snow, you can rent snowmobiles and 4-wheelers.
Go down a 7m high mountain and ride a dog sled
The largest Moscow skating rink has opened at VDNKh. It is divided into three zones. The main zone covering about 16,000 sq m welcomes visitors of all ages and skating skills. These are wide ice tracks along the central part of the rink. The rink is centred around an unusual installation of glowing snowdrops, cornflowers, forget-me-nots and 2020 artworks. There is a separate children's rink opposite Soviet Culture Pavilion No. 66, for kids aged 3-8 accompanied by adults.
You will find the third rink zone, Sweethearts Alley, centred around the Friendship of Peoples fountain. Romantic people and those who prefer ice skating dates will just love it. Four rental stations and an Express Pavilion (opened on weekends and holidays) with changing rooms for visitors with their own skates are to be open throughout the season.

The rink is open 11:00 am till 11:00 pm on weekdays and 10:00 am till 11:00 pm on weekends and holidays. There is a maintenance break 03:00 pm till 05:00 pm. Monday is an upkeep day. Tickets are available at the ticket offices of VDNKh's info centres, ticket offices around the rink's perimeter, and on VDNKh's website.
Ostankino Park offers VDNKh's guests another 1,800 sq m artificial ice skating rink. The admission is free, but there are no rental points, so you need to bring your own skates. The rink is open 10:00 am till 10:00 pm.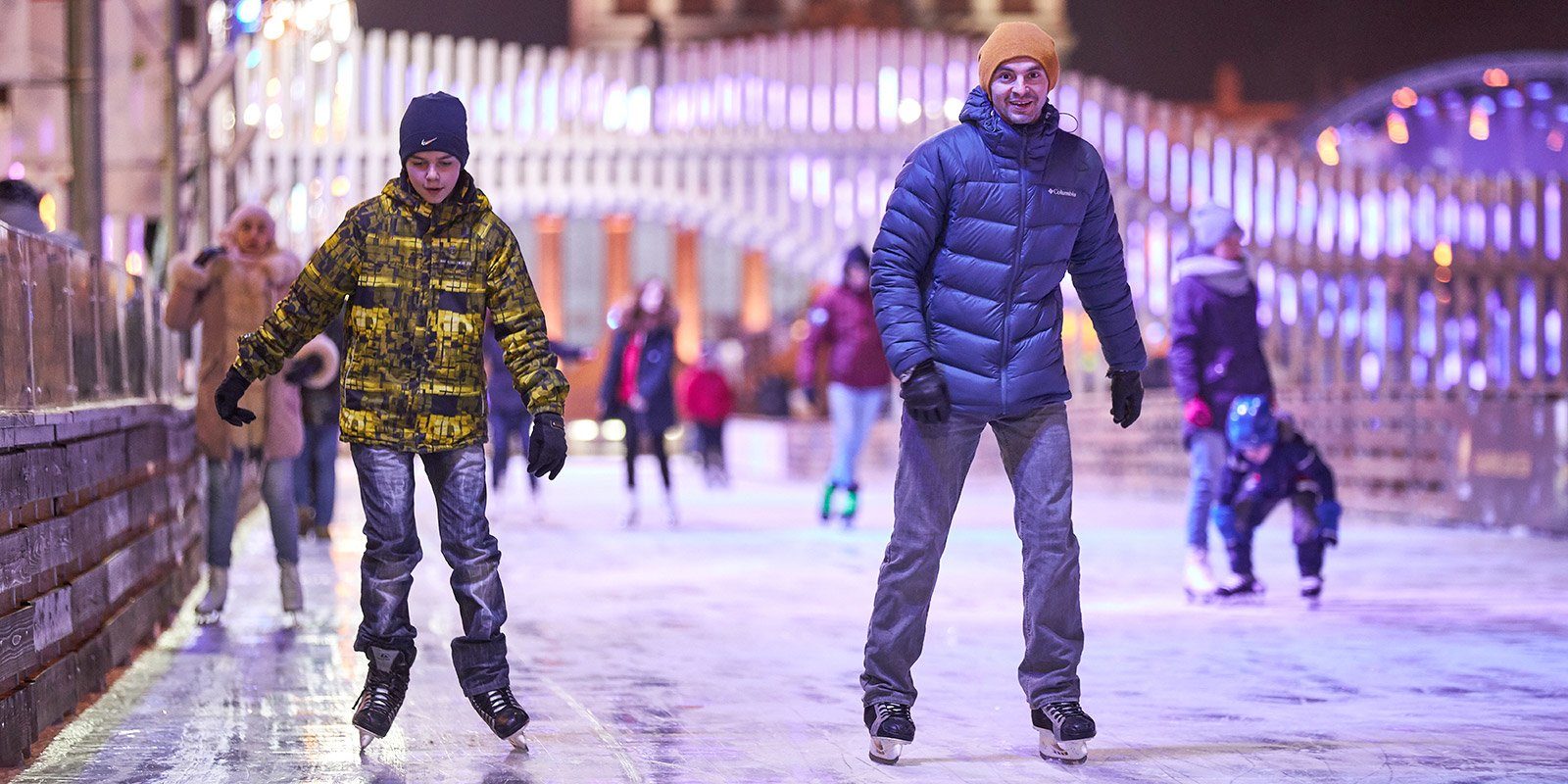 Besides, there is a 7m high tubing slide with 5 68 m long slides mounted in front of Pavilion No. 57. It is open in any weather, as its slopes have a special all-weather coating. On weekdays, the slide is open 11:00 am till 11:00 pm, and 10:00 am till 11:00 pm on weekends and holidays. Tickets are available at the ticket office next to the slide (tube rental is included in the ticket price).
As soon as there is enough snow, snowmobile and 4-wheeler will be available for rent. Speed maniacs and thrill seekers will enjoy two tracks, 120 m long track for adults and 110 m long track for children. Find the site with snow cars next to Pavilion No. 64. Children 5+ must be accompanied by adults. The site is open 11:00 am till 11: 00 pm on weekdays and 10:00 am till 11:00 pm on weekends and holidays.
Also, you can have a husky dog sled ride at VDNKh. Details are coming soon on the VDNKh's website. Find the site with sled dogs to the left of VDNKh's central entrance.
As soon as snow falls, two ski runs will be laid in Ostankino Park, 5 km long for adults, and 500 m long for children.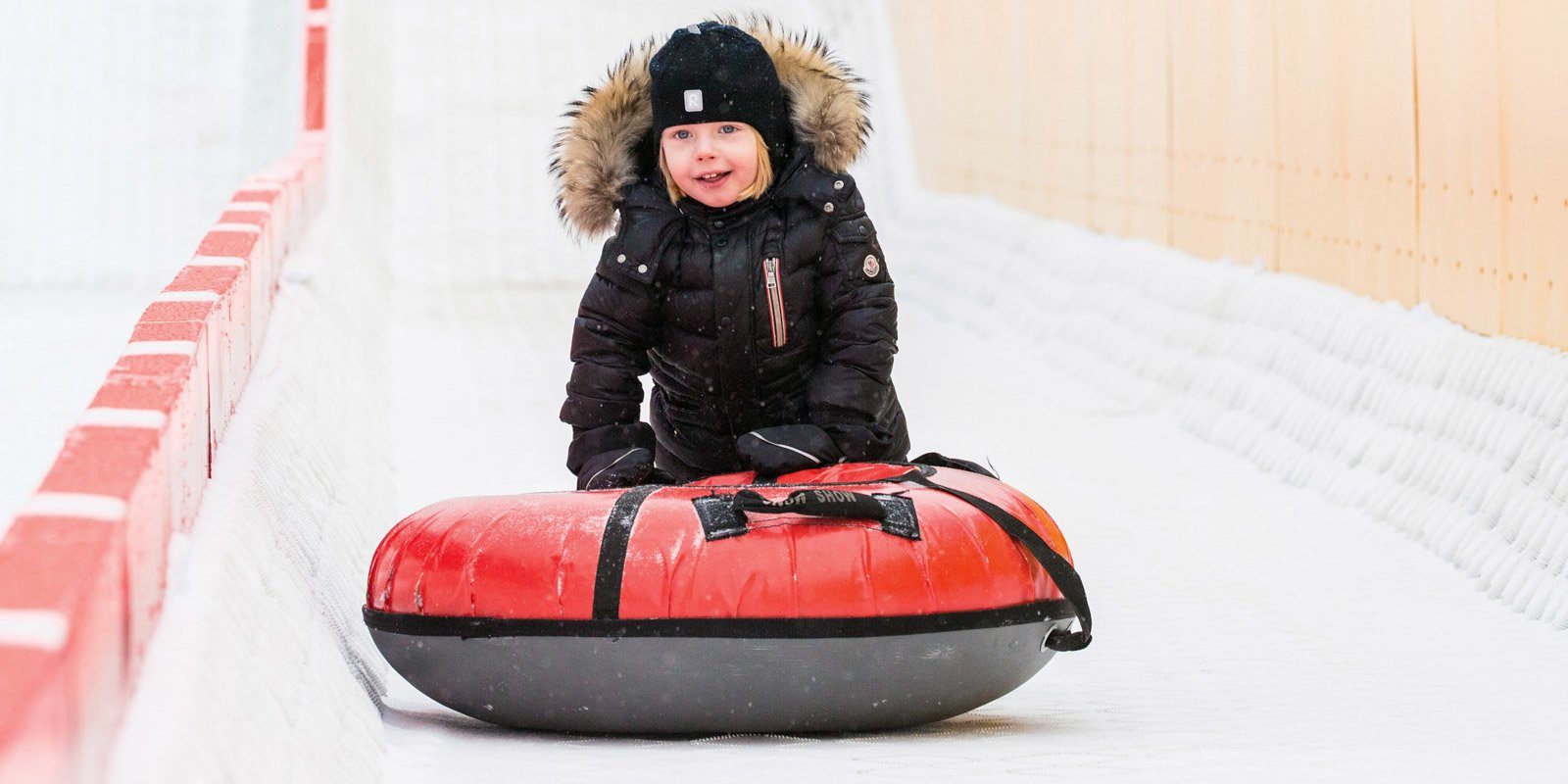 Visit a lollipop factory and watch a Christmas show
VDNKh's Сrafts Park turns into a Father Frost's factory for the whole season. Make gifts for your nearest and dearest together with artists and craftsmen. Learn to make Christmas Tree decorations in the Christmas Art workshop. Make colourful lollipops at the lollipop factory. Best Memories photo studio will offer unusual photo shoots. Choose an activity to your liking, register and find out its cost on the Crafts Park website.
City Farm invites kids 2+ and their parents. Watch the Christmas performance 'Who Lives in a Box?' based on Scandinavian fairy tales and legends, and other productions to watch with children. Christmas performances will run from 14 December till 12 January. Buy tickets and check the schedule of all performances on the City Farm's website. Besides, workshops will offer children to make Christmas decorations.
The Fairy Tale Theatre has staged a bright Christmas show 'Dragonych Flies to the North' to run in Pavilion No. 9. The audience will be able to take part in the play together with professional actors and set off to conquer the northern lands together with the characters. Bring children 3+. The show premiers on 25 December. Find tickets and schedule here.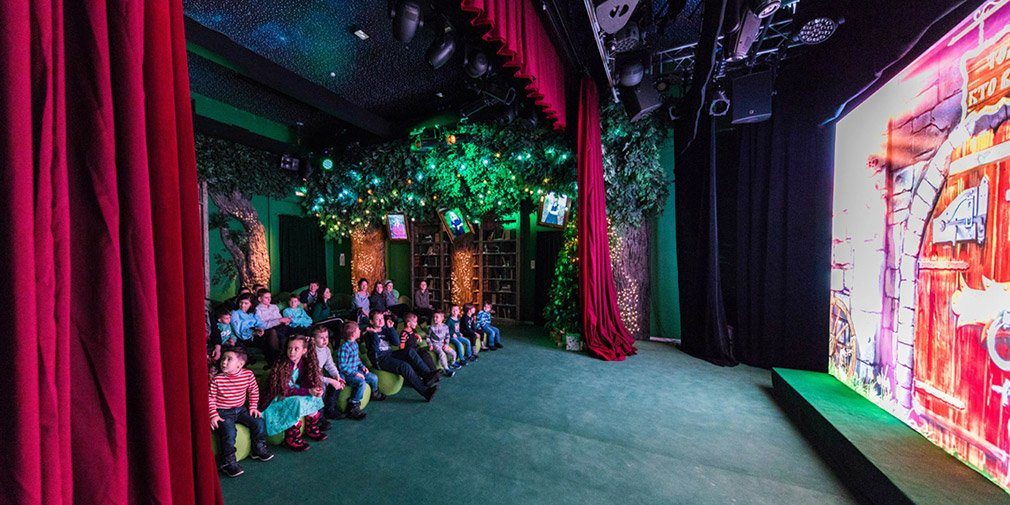 The youngest spectators will view the play 'Brownie in the Shop-Window' at VDNKh's Culture House (building 84). The story is about a miracle that happened to a little boy on Christmas eve. Among fairy tale characters are a family of mischievous brownies, a good sorceress, toys that came alive and residents of an ancient city. Children 3+ are welcome. Kids under 3 years of age are admitted at parents' ticket. The show will run 21 December till 10 January. Buy tickets on VDNKh's website.
14 December till 19 January, Moskvarium guests will enjoy a Christmas show 'Around the World During the New Year's Celebration' with marine animals taking part. Walruses, beluga whales, dolphins, killer whales and sea lions will show circus tricks. You will enjoy bright visual effects, 3D projections and an interactive program. There will be three shows a day, at 11:00 am, 02:30 pm and 06:00 pm. Buy tickets on the Moskvarium website.
This winter, Robostation (Pavilion No.2) will make you feel like an inventor to help Father Frost save the New Year party. 21 December till 7 January, it will run an insightful family performance 'Elementary Christmas Tree 2.0'. Spectators are to solve a lot of scientific puzzles and visit real laboratories. Check the schedule and buy tickets here.
There will be a traditional Christmas Market behind Pavilion 58. You will find gifts and Christmas treats in wooden chalets decorated with luminous garlands and openwork patterns. The fair will be open from 27 December to 8 January.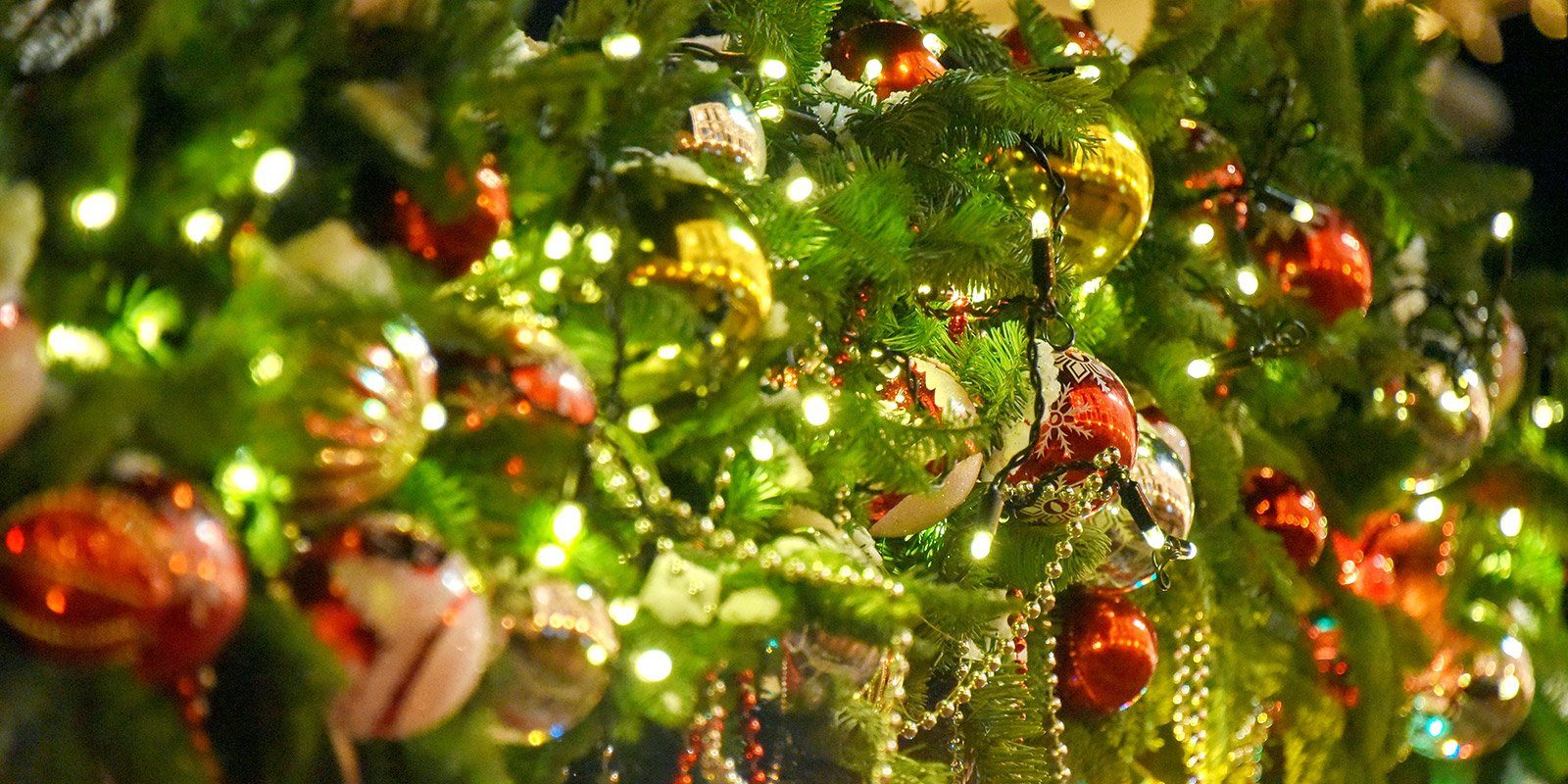 This year, VDNKh celebrates its 80th anniversary. Annually, 30 million people visit the exhibition. Covering more than 325 ha, the area houses 49 cultural heritage sites, historical pavilions and fountains. In August, VDNKh Museum opened in the right wing of the central entrance arch. Here you can learn about the history of the complex, the architects, sculptors and artists who participated in the creation of its pavilions.
Since 2014, VDNKh has been under a comprehensive overhaul covering almost 40 buildings and facilities. VDNKh will further develop as the major cultural, educational and recreational complex. There is a new themed park under construction and the second phase of the landscape park and climbing centre in progress.