Flower Jam is currently the world's largest landscape design festival and contest in terms of the number of projects and visitors, as well as exhibition space. The highly selective organizing committee received 260 applications from 12 countries for Flower Jam 2019, but just 42 made the final cut.
The theme of this year's competition is 'Gardens in Permanent Bloom', and the competition task is 'Summer Gardens of Moscow'. The defining feature of this kind of garden is that their color, shape, and volume change throughout the summer months, as their plants begin to blossom at different times.
The gardens that were chosen to appear on the streets of Russia's capital this year are already in bloom, with over 200 thousand live plants between them!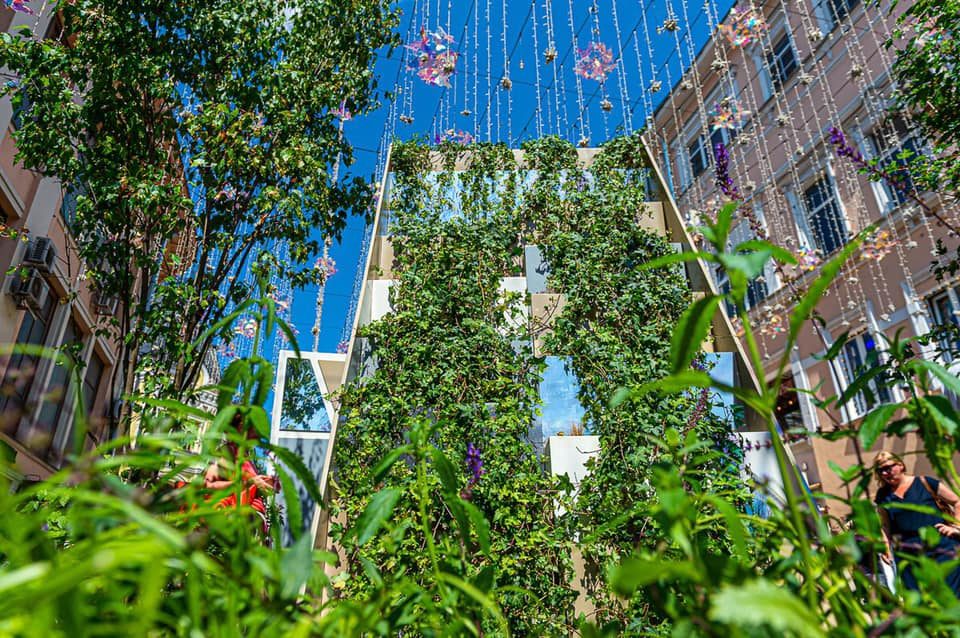 Festivalgoers will have the opportunity to acquaint themselves with absolutely extraordinary landscape solutions, including a mirror garden/amphitheater in the heart of the city's premiere international business center. This perfectly round garden in Moscow City is surrounded by a mirrored wall that reflects the capital's tallest skyscrapers. The outer part perfectly blends with the district's urban landscape, while the inner part appears as a rich green oasis, completely covered with plants.
Just in front of the Russian capital's oldest department store, TSUM, passersby will find an 'immersive' garden created by Italian designers Silvia Calatroni and Alessandro Trivelli, who sought to deepen the relationship between people, nature, history, culture, and city life through their work. The garden reproduces Central Russia's landscape and contains a lot of mirrors that allow visitors to see everything from different angles. Books of Russian poetry, which you can take and read at any time, are an integral part of the garden.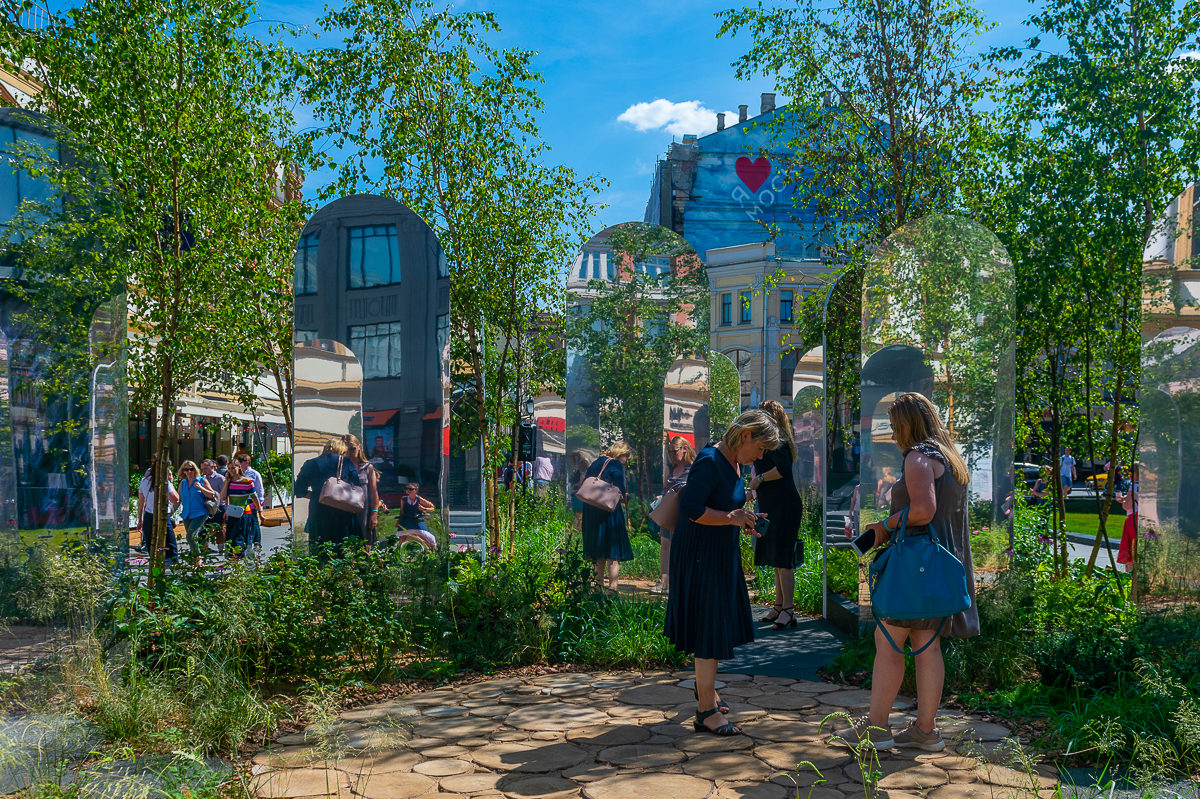 On Novy Arbat Street, you'll find a garden consisting of cells filled with frosted glass, wood, and plants. The space takes the form of a book itself, with the plants along the borders symbolizing notes in the margins. While there's a Wi-Fi zone near the garden providing access to an electronic library, if you prefer hardcopy books, you can find some under the seats. This project is the work of Polina Solomatina, who won a student contest for the right to create it.
Another literary garden can be found on Myasnitskie Vorota Square. Inspired by Mikhail Bulgakov's mysterious novel The Master and Margarita, it combines a 'forest' in the city center with bright structural elements to create a magical, theatrical impression, with different parts of the garden referring to chapters of the book.
There are also gardens dedicated to great paintings, theater, and architecture, including works created by genius innovator Le Corbusier and the leader of Russian Constructivism, Konstantin Melnikov.
New to this year's festival is a contest nomination for 'Landscape Design for Social Areas'. Entries in this category feature sensory gardens, creative spaces, and playgrounds designed for the grounds of hospitals, schools, and orphanages. Apart from their aesthetic and ecological functions, they actually play a therapeutic role!
The contest's jury boasts leading landscape design professionals, including Andy Sturgeon (Great Britain), winner of six gold medals at the RHS Chelsea Flower Show, as well as two 'Best in the Show' titles; Jonas Egger (Switzerland), designer and CEO of the Greenhance landscape design company, who won the title of 'Russia's Best Landscape Architect' in 2018; Mario Bonicelli (Italy), an architect and multiple award-winner; and the president of the Association of Russian Landscape Architects, Taisya Wolftrub.
The competition's final stage will be held in late August and early September, when the winners will be announced, with the sponsored prize fund amounting to 4.8 million rubles. From August 23 to September 8, the festival's visitors will enjoy entertaining activities at 50 city venues, including master classes in gardening, floristry, and culinary arts, as well as open-air gigs, theater performances, and a special program dedicated to Moscow City Day. And that's not all! One of the events – a large-scale flower contest – will encompass the entire city, with 1500 venues in all.